As the above heading signifies, we need more than a simple box to catch the eye of our target audience. That stands more than natural for the production of custom bakery boxes. Many bakers use these boxes for wholesale and retail purposes. However, the point is that you shall never create a box in a boring way. You can find many ready-made designs and templates online for that purpose. It is also a fact that those will never look as good as you can design yourself. So if you want to make your pastries, cupcakes, and desserts stand out from the crowd, here is how to do it through your packaging. We'll teach you how to design the perfect printed package for bakery items. Let us start with the printing options.
What to Consider When Printing Custom Bakery Boxes?
It's essential to consider a few key factors when printing your Custom Bakery Boxes. First, you'll need to decide how your packages look. What colours will they be? Will they have images on them or just text? Will they be glossy or matte? How many colours should they use? Finally, what are the most critical flavours and details that make this dessert stand out? Is it chocolaty goodness or fruity sweetness that makes your customers crave more after indulging in one serving? If so, you might need a lot of space on your boxes to advertise those ingredients. It will also help you decide what sort of printing you need. For great results, we always opt for digital printing. However, conventional printing is also not a bad idea. Next comes the choice of colours.
Colour Choice for Printed Custom Bakery Boxes
The colour scheme can be a great way to make your printed packaging pop. A colour variation is an essential aspect of the custom bakery box design. There are many factors to consider when choosing colours and shades. All that must be following your products. As we know, various colours have different impacts on the psychology of your target audience. A few of the most important things to consider are:
How well will your colours go with the product inside the box?
Would these colours stand out on the retail shelves?
Bi colour or multi-colour - which will suit you most?
Shall your colours be loud or light in textures?
Is your colour choice according to your company theme?
After the choice of colours comes the design and layout section. Again, it will be useless if you do not know how to place and how much colour in each design.
How to Awesomely Design Custom Bakery Boxes?
Design combinations that work well together often have one colour from the following primary colours:
Red
Yellow
Blue
Black
Your custom bakery box design and colour scheme should always contrast perfectly. That will help to distinguish your design from the rest of the boxes in the same rack. Similarly, a design will be like a faceless person if it does not have a logo. The logo is the face of your company.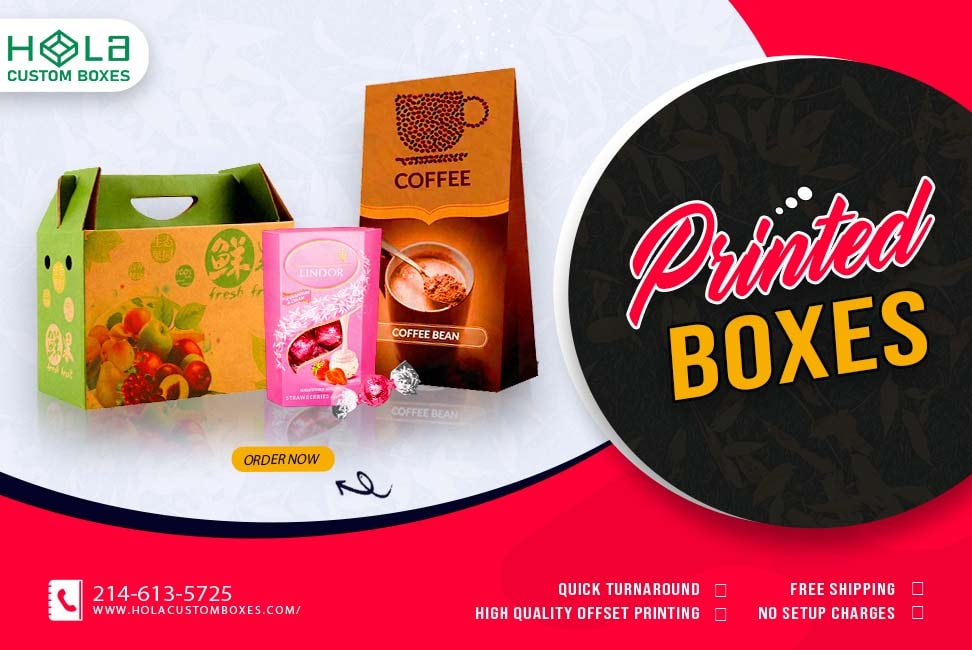 Customizing Printed Boxes with Logo for Bakery Items
Design your logo so that it becomes a mark of recognition for your brand. This is one of the most critical steps in creating a brand identity for your bakery. That is what will make your Printed Boxes different from the crowd. Of course, you will want to use a professional designer with experience in branding to make this, but don't worry; it doesn't have to cost you too much! Just be sure that whoever you choose is someone who has experience designing logos specifically for bakeries. You can also select a manufacturer with all the design and layout facilities under a single roof. It will save you not only time but also budget.
Why Buy Printed Boxes for Bakery Products in Wholesale?
If you have a big event or a regular bakery shop, what suits you most is a wholesale deal on Printed Boxes. This is perfect for you in many ways. The price is right. Compared to buying these custom-printed boxes wholesale, it would be much more expensive if you were to buy them in precise quantities. Whether you have a local store or bakery, you must consider that option. Ordering from a wholesale company means your custom-printed boxes for bakery items are more affordable than the retail ones. All you have to do is get them in bulk, then store them in a cool and dry place so you can use them when you need them. All that quest for quality printed packaging will end with a decent and trustworthy manufacturer. Here is how you can deal with one.
Choosing a Manufacturer for Printed Boxes?
Start by looking for businesses likely to have experience producing bakery product packaging. Once you find a manufacturer, it's time to determine your requirements regarding printed boxes. You must ensure that the one you choose will perfectly meet your needs. You'll want to ensure they are willing and able to produce high-quality food item boxes, offer customization options, allow for easy ordering, and ship orders quickly. Once these points are clear, you can choose the manufacturer for your bakery product packaging wholesale. Though many other aspects are involved in that single decision, the most important points are mentioned above. Once you keep these in mind, you will make a great decision.